A couple of friends and I decided we needed to take a girl's trip. We immediately started brain-storming where we should go. Initially, we thought a beach would be the perfect place to get away, but then we found an eco-friendly cabin on this beautiful lake-front property and knew that's where we needed to go. We planned everything out down to what pool float each one of us had to bring!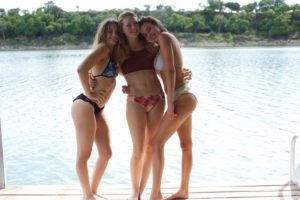 The morning we left we discovered the cabin we would be staying in did not have a kitchen like we had originally thought. We all laughed through this road bump knowing there would be plenty more to come. We left town around 2:00 p.m. and arrived at the property around 3:00. The property was absolutely beautiful! There was a total of three cabins and two houses on the property (one belonging to the host). The land was decorated with hammocks, dream catchers, plants galore, and even an energy garden! It was the most amazing property where everyone is family and the love and serenity can be felt as soon as you step foot on it. Ah! It was just so cleansing!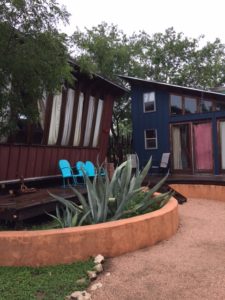 We put our bags up and met with the host who informed us that as long as no one was staying in a cabin we were free to use it's amenities. Phew! We could have a kitchen for at least one morning! Then, we went grocery shopping. We looked up nearest grocery stores, but they were all at least thirty minutes away so, we visited the nearest gas station. We strategically shopped the best we could. We grabbed a copious amount of sausages for our stay as well as fruits, veggies, and of course chips and salsa.
The rest of the trip consisted of countless hours on the dock. We ate, danced, and swam our way through our stay. I'm always happiest in nature, but there's just something so special to me about the lake. It's always been the place where I feel most at home. You get the view of the hill country while still be surrounded by water. It's perfect! Being with my friends just made it even better. We spent every day soaking up as much sun and love as we could. It was quite the adventure and we laughed our way through it all.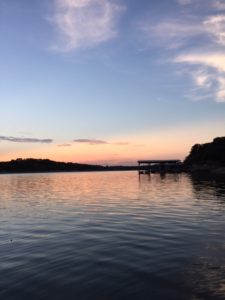 This was my first time away from Matthew for more than just a couple of hours! I definitely missed him, but this retreat was much needed. Sometimes we get lost in the mundane. We start working on autopilot; not really appreciating the beauty in the day-to-day tasks. Getting away for a few days always makes coming home so sweet! It makes you really appreciate what you have. August can be a pretty difficult month being the height of the heat of summer and the beginning of the change in the months ahead. With school and a new job starting this month, I was pretty overwhelmed with all of the changes, but this trip really energized me for the months to come. I am feeling so blessed to have beautiful friends to share amazing experiences with, a supportive family that is willing to watch Matthew while I am away, and of course my amazing son who makes every day a new adventure!
All love,
Amy Shortt