Thrifting has become one of my favorite methods of shopping recently. Thrift shopping is really rewarding because it is not only ethical shopping, but it is so fun to find one of a kind pieces. Thrift shopping adds an entirely different element to your wardrobe. Any outfit you incorporate a thrifted piece into is instantly made especially unique.
Any time I go thrifting, I always make sure to give away at least as many items as I purchased. It is way too easy for me to shop and shop until I no longer have space in my closet when in reality I am only wearing a number of the pieces I own. I give away the pieces I no longer love so, someone else can love them just like I am buying someone else's clothes to love on.
I have been absolutely obsessed with these high waisted pants recently. I was thrifting one day when the floral pattern caught my eye and on a whim I bought them. These pants are so unlike anything else I have in my closet and so much fun to work with. They are so comfortable and versatile. I absolutely love the retro feel they give to any outfit. Here, I paired them with a simple white tank, a jean shirt which I tied in the front to add to the retro vibe, and a pair of white tennis shoes. For accessories I kept everything really simple by just adding a gold necklace. I really enjoy keeping the pants as the main focus of this outfit.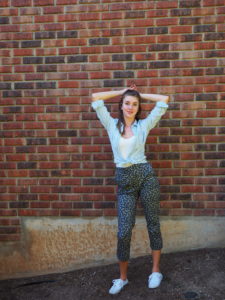 Details
All love,
Amy Shortt