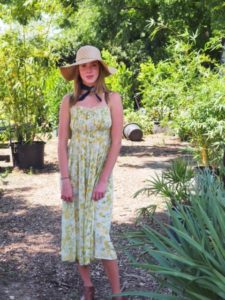 First of all, please excuse my super fashionable bandaid in some of these shots. Haha!
At the end of a week, if it was a particularly challenging one, I like to reward myself. So, on this particular day, I visited Austin Plant Supply. Anytime I feel overwhelmed or just bogged down with general life concerns, I have found spending time outside instantly makes me feel better.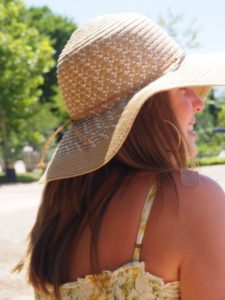 Nature is our quickest means to connecting with the Power which created us. There is so much to learn by simply observing the natural world. It helps me to detach from the labels we feel are so necessary. It helps me reconnect with my inner self–my true self. Being outside is my perfect way to turn around any week that threatens to dampen my mood.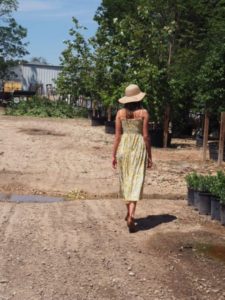 This day was exceptionally hot. On scorching days like this, I love wearing breathable dresses. I have been wearing this specific dress nonstop. I am obsessed with the summery colors and floral pattern. It has been my go-to dress every since I bought it; not only because it's comfortable and easy to throw on, but also because it is so versatile.
Here, I paired it with some basic gold hoop earrings, a celestial shaped necklace, a blue bandana, and a sun hat. I have been obsessed with these earrings and necklace as well. They're so simple, yet they instantly dress up any outfit. The bandana has a couple different functions. Traditionally, people tied bandanas around their neck to protect their neck from the sun, but I chose this bandana because I like the contrast against all the warm tones. Also, I have bangs which on extremely warm days like this I do not want in my face and the bandana can be tied around my head to hold back my hair if needed. Finally, the hat is to shield my face from the sun and my brown ankle boots protect my little toes from the rocks and sticks.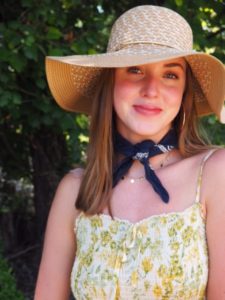 Does anyone else get super flushed when their warm? It was about 90 degrees!!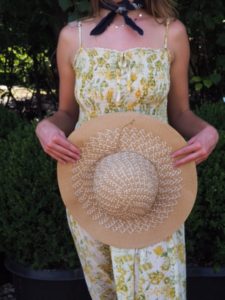 Pieces:
All love,
Amy Shortt